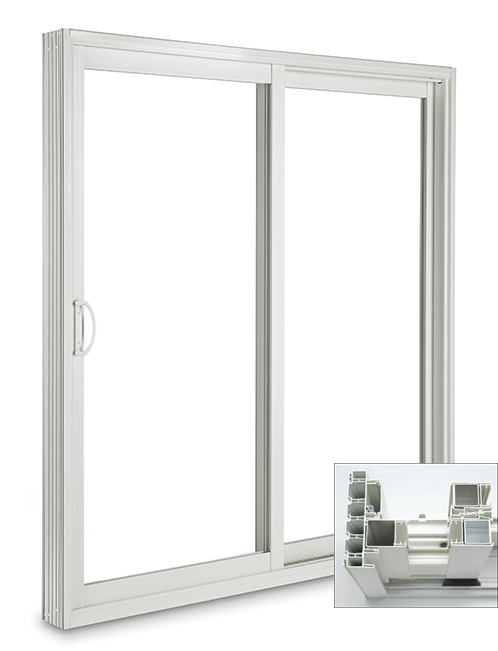 Victorian Design
Performance Series is manufactured from the most advanced vinyl. A high-grade resin recipe unmatched for strength and freedom from wear. Offering beauty and performance – it will not rot, rust, pit or blister over long periods of time. Our multi-chambered, allvinyl frame is durable and easy to install. Maximized strength withstands high winds and provides superior air tightness.
Vinyl Frame
5 7/8" mechanically fastened vinyl frame
Components easily installed and replaceable
3 Weather seals
Anodized screen track/stainless steel roller track
8 degree sill slope for optimal drainage
Durable Welded Sash
Reinforced with steel to withstand higher wind loads
Double perimeter seal for superior air-tightness
Doors are easily and completely reversible
Adjustable nylon tandem ball-bearing rollers
1" sealed units for optimal thermal performance
Elegant Hardware, Mini Blinds

Guardian Locks

Guardian Locks mount on the top of the operating door; security bolt locks into the frame. Available in white, beige or brown.

Two Position Kick Locks

Two Position Kick Locks mount on the bottom of the operating door. Used as secondary lock with door in the closed position. Available in white, beige or brown.

Folding Security Bars

Folding Security Bars mount on the fixed side of the door frame and swing down to stop the door from operating.

Standard Glazing, Decorative Grills

Glazing

High-performance glazing with Low-E glass and Edgetech Super Spacer® Technology. (Stays cool in summer  |  Stays Warm in winter)

Decorative Grills

Internal grills are available in a wide range of design styles with colours that include Flat Grills in White; Georgian Grills in White, Brass or Pewter and Pencil Grills in White, Brass and Pewter.

Optional V- Groove Glass - Decorative and elegant

Standard Colonial: 5' and 6' door – 3×5 Grid Pattern; 8' door – 4×5 Grid Pattern

WHATEVER YOUR DESIGN NEEDS, WE HAVE A PALETTE OF COLOURS FOR YOU
Take advantage of our online specials. Visit our Specials page and contact us to qualify for any active deal on at this moment.
Get familiar with our work by visiting our galleries page. Find out more about our expert workmanship skills by contacting us today.
We can help you make a right choice for your personal project. Learn more and book a no-pressure in-home consultation today.